My Bacon Wrapped Chicken Rolls Recipe is a great way to do chicken differently. The great thing about this chicken is that in the summertime you can grill out, and in the fall and winter you can broil it. Either way it's great! I always like recipes that you can let cook for a long period time and do other things while you wait.
Ingredients you'll need -
About 8 boneless skinless chicken breasts
1 12oz pack of Colby Jack Shredded Cheese
1 lb lean bacon (uncooked)
1 cup Sweet Baby Ray's BBQ Sauce
2-3 cloves chopped fresh garlic
I don't use a meat tenderizer that often (the meat hammer with points on either side), but this is a great recipe for that. Any time you prepare a "meat roll", it's best to try and both tenderize the meat a little (while making it a bit thinner, and easier to roll). A little trick I learned a long time ago was to sprinkle the chicken with seasonings (salt and pepper to taste, and either garlic powder or lemon pepper) – then pound it out a little with the meat hammer.
Next sprinkle with shredded cheese and chopped garlic, roll up, wrap with 2-3 slices of bacon, and secure with wooden toothpicks. Grill or broil 30-40 minutes, and then brush with barbeque sauce once or twice and cook an additional 10-15 minutes.
My Homemade Coleslaw recipe is best made fresh shortly before the meal. Your family will love it!
I like easy, and I like homemade. Coleslaw is very easy to make, and there's no need to make your own dressing when you can buy Marzetti's slaw dressing right in the store. Coleslaw in the deli is ok, but you don't get that same creamy consistency that you get from homemade (or better restaurants). You can shred your own cabbage and carrots too, but there's an easier way.
Ingredients you'll need:
2 bags of already shredded coleslaw mix (16oz each – We use Dole)
1 jar Marzetti's light Coleslaw dressing
Making coleslaw really isn't an art, but you do need to make it about an hour to two hours before a meal.¬ You only need a little over one cup of dressing for each 16oz bag of slaw mix (which is only shredded cabbage and carrots).¬ One jar of Marzetti's light slaw dressing is about 2 1/2 cups – which is just right for 2 – one lb bags of mix.¬ Mix well, and refridgerate and you're done!
Cabbage is really stiff and crispy, and as it sets in the fridge it absorbs the dressing and becomes softer.¬ If you ate it right after mixing – it would be pretty hard to chew.¬ Also, we tend to eat nearly all the coleslaw we make the same day.¬ Cabbage gets stronger as it sits, and the next day it will be much stronger than the day you first made it.
Enjoy – we love homemade slaw with barbeque, burgers, at picnics, when we grill out, and even sometimes at holidays and get togethers!
Yes, you CAN have good Barbeque Chicken in the crockpot – this recipe is proof!
Yesterday was a lazy Fall Sunday, and we wanted barbue chicken – but I was in no mood to fire up the grill.¬ Believe it or not, you can make the best Barbeque Chicken in the crockpot (and once you do everyone will want your recipe).
Now first, let me say that BBQ sauce itself is so subjective.¬ Some people have guarded recipes that have been passed down for generations, and others prefer to take the easy route (like myself) and just use barbeque sauce from the store.¬ I don't care which you use in this recipe – just substitute what YOU like for the sauce portions.¬ Also – some people prefer chicken on the bone because it's cheaper and you can use dark meat as well.¬ We prefer only skinless, boneless chicken breast, but again – use what YOU prefer.
Ingredients you'll need -
About 2 lbs chicken
3 tbsp chopped garlic
1 medium green pepper chopped
1/2 chopped Vidalia onion
2 tbsp chili powder
2 tbsp ground Cumin
2 full bottles "Sweet Baby Ray's BBQ Sauce"
1 – 4 qt crock pot
Turn your crockpot on high first. Empty both bottles of barbeque sauce into the crockpot with the chopped garlic, and stir.¬ Chop up your green pepper and onion, add it to the mix.¬ Also ad the chili powder and Cumin, and mix well.¬ Add the chicken to the pot, mix well with the sauce – place the lid on the crockpot.¬ Stir every 30-40 minutes and let cook for about 4-5 hours+.
This recipe easily servers 6+, but you could add another pound of chicken and another bottle of BBQ sauce if you wanted to sever 8-12 and fill the crockpot.¬ The entire house will smell of beautiful bbq as it cooks, the sauce will carmelize at it boils and permeate every last pore of the chicken.¬ I think chicken this way is much different than on the grill because it cooks for hours and hours IN the barbeque sauce, and the veggies disappear and become part of the sauce.¬ We eat the chicken on buns with a piece of cheese – just like a burger.¬ You could just as easily eat it over rice.¬ Last night, we served this with oven baked french fries and coleslaw, yum!
My Nacho Taco Salad Recipe is quick, tasty, AND filling!
The other day I got a comment on my Easy Tasty Taco Salad Recipe, and "Kerrie" said that she adds the chips to the bottom of the bowl and adds layers of meat, cheese, lettuce, etc. I had seen this done once before, and we created something new that I call my "Nacho Taco Salad Recipe"!
This is pretty easy to make, and could have a million variations – but here are the ingredients (recipe is for about 6 people):
2 lbs lean ground beef OR ground chicken (which WE LOVE)
salt, pepper, cumin, and chili powder to taste
1/2 large vidalia onion chopped
1/2 med-large green pepper chopped
1 jalapeno pepper chopped (if you like hot)
2 tbsp chopped fresh garlic
about 1/2 cup chopped fresh cilantro
2 cans fat free refried beans
1 pack (about 10oz) of shredded taco cheese
1lb+ bag of Tortilla chips (baked, fat free, organic, blue corn – all good)
1 head chopped lettuce
2 large or 4 med diced tomatoes
1 small can sliced black olives
I chop the onion and peppers first, and add them to a large skillet on med-high with about 2 tbsp of extra virgin olive oil. Mix well, stir every 60 seconds for about 5-6 minutes. Open your cans of refried beans, put in a saucepan and thin a bit by mixing in some water (or sour cream, or milk). They should be thin enough to drip off the spoon, but not thin like soup. Cook on medium while the meat cooks. Add your meat to the other pan, cook on one side for about 5 minutes, flip over, chop, season with salt, pepper, cumin, and chili powder (or a taco seasoning pack), cook 5 minutes, flip with spatula and chop again, and then add the chopped garlic and cilantro, cook 3-4 more minutes and it your meat should be done. Stir the beans every few minutes while the meat cooks. When the beans start to bubble and boil, turn the heat down to low until the meat is done, and then turn them off.
While you meat is cooking, you can be chopping your lettuce and dicing your tomatoes. When the meat is done start to make up the bowls. Place a layer of chips in the bottom, then refried beans, then meat, then cheese, then lettuce, then tomatoes, then black olives! When we serve ours we usually drizzle a bit of lite ranch dressing over the top and that added touch of flavor!
We have a 2 year old in the house – and this beans and franks recipe is a favorite! Kids love hot dogs, and beans AND franks are a great alternative to just having hot dogs all the time. Sneaking in the garlic and onion – well, that's just an added bonus for me (but it tastes great!).
2 cans pork and beans
1 package hot dogs (cut in chunks)
2 Tbsp. brown sugar
2 Tbsp. mustard
1/4 Vidalia Onion (chopped)
1 clove garlic (chopped)
This is pretty basic, all you have to do is place all of the ingredients in a sauce pan over medium heat and simmer 5-10 minutes until the hot dogs are hot and onion is soft, but sometimes I like to let it go on low heat 20-30 minutes until all the flavors melt nicely! As a nice added touch, sometimes I'll sprinkle some freshly grated cheddar or colby cheese just before serving!
In the market to buy a Food Processor?¬ My review of models under $100 can help you save both time and money!
I don't have a lot of electric "Kitchen gadgets", I prefer to do most things by hand.¬ I recently took to the garage our electric skillet, fryer, and several other outdated and unused small kitchen appliances that are now one step closer to either garage sale heaven or eBay.¬ The only two things really left are the blender (which sole purpose seems to be making shakes or chopping ice), and our tiny food processor.¬ I love to chop, and I chop nearly everything up by hand.¬ But the last time I made salsa is a good example.¬ I chopped up absolutely everything, but the mix was still a bit rough.¬ I ran the entire batch through the food processor and gave it a few quick "pulses" to get it down to the fine "pico" type texture I like my Salsa to be.¬ The month before I used it to make the best garlic paste with carpelli beans, olive oil, fresh Italian parsley, and fresh ground pepper.
If you don't have a food processor (or a good one) – it's time to equip your kitchen!¬ It's also a great time of year to buy a gift or two and set them aside for Christmas – so it doesn't hit you all at once!¬ Maybe your Mom, grandma, or kids need a good food processor!
If you're looking for a good food processor you still have to decide what features you want.¬ Some people want a hopper so you can feed stuff into it, and different "disks" for different ways to chop or shred things.¬ Other people just want to "chop" stuff quickly. Based on that, if people ask me what kind of food processor to get I usually classify them those two ways.
Food Choppers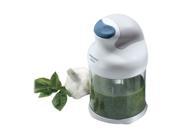 Black & Decker EHC650 White Ergo 3-Cup Chopper
Price: $20.99
This Black & Decker EHC650 White Ergo 3-Cup Chopper 2 Speeds is a great value for the money – because it's gonna quickly do what you want and cleanup is going to be minimal.¬ You really can't go wrong for $20.

Cuisinart 3-c. Classic Series Mini-Prep Plus Food Processor, Brushed Chrome
Price: $39.95
Like it's predecessor, the Cuisinart Mini Prep, this Mini-Prep Plus food processor has a 3-cup capacity work bowl and is great for all those small food-preparation tasks like chopping an onion or nuts, mincing herbs, or making fresh salsa. It has 2 speeds — Chop and Grind — for maximum control. Plus, it has an auto-reversing SmartPower blade and a reversible motor, so you can switch from chop to grind without interrupting the flow. It offers the same quality and modern design you've come to appreciate from Cuisinart.

Proctor Silex 1-1-2 Cup Food Chopper – 72500
Price: $25.87
The Proctor Silex 1-1-2 Cup Food Chopper – 72500 is a classic Food chopper.¬ It's a sturdy work horse, easy to clean, and priced right.
Multi-Purpose Food Processors
You might want a more "multi-purpose" food processor that can grate, slice, dice, chop, mince, and pulverize food any old way you want. You can get a great deal on a heavy duty large capacity name brand food processor for under a hundred bucks – easily. Here are my best choices…

Hamilton Beach 14-c. Big Mouth Food Processor
Price: $69.95
A big mouth can be an asset, especially when it comes to this new food processor from Hamilton Beach. It saves time on prep tasks since the large chute, or "Big Mouth", lets you insert whole potatoes, tomatoes, cheese blocks and more. Shredding and slicing is done is seconds, and the included spatula ensures you get every last morsel of food. The unit offers four speeds and 450 watts of power. Other highlights include a 14-cup capacity work bowl, an S blade or chopping blade, a 3-mm slicer/shredder disc, a 6-mm slicer/shredder disc, a food pusher, multiple locking positions, ready light, in-bowl storage and dishwasher-safe components. Hamilton Beach Brands, Inc., has expanded its support for the American Heart Associations Go Red For Women movement into 2009 with a cumulative donation of 850, 000 since 2005. The company will promote its Healthy Hearts Start in the Kitchen campaign with interactive outreach that drives traffic to healthy lifestyle tips and recipes available on www.hamiltonbeach.com. Hamilton Beach has designated more than 30 Go Red products including distinctive red appliances to remind women every day to love their hearts. Hamilton Beach encourages women to take charge of their health, learn the risk factors of heart disease, and make eating healthy a priority.

Cuisinart 40-oz. Duet Blender/Food Processor, White
Price: $79.95
This is definitely one of my favorite products, because you get a "two-for-one" (blender and food processor).¬ Cuisinart skillfully combines a blender with a small food processor without sacrificing the performance or features of either one. This Duet appliance is great for smaller kitchens and apartments with limited counter space and cupboard storage. The 40-ounce glass blender jar whirs at the touch of one of 7 speeds, including a special ice crush setting and pulse.To slice or shred vegetables or fruit, simply remove the blender, replace it with the 3-cup work bowl, collar and cover, and you're off! Even tough jobs like grinding beef cubes or grating Parmesan cheese are a breeze. A chopping blade and reversible slicing/shredding disc are included. The food processor's unique design lets you position the handle and feed tube facing front, side or rear, handy whether you're right or lefthanded. Extra amenities include indicator lights so you know what functions in operation, a hidden cord storage, dripless pouring spout and a feed tube pusher with a built-in liquid dispenser. It's a 2-in-1 appliance worth it's weight in dozens of meals.
Doesn't this pic of my Sausage, Peppers, and Potato Recipe look Yummy?
I seem to have the uncanny ability to take ingredients that need to be used up and create really tasty dishes! We had a cookout awhile back and my son demanded those all beef Kosher Hebrew National hot dogs. We had never purchased them before – but it's what he wanted, so we got them for the cookout. We had a lot of people so I had purchased a big 32 pack of the all beef Polish sausage variety. We had a half dozen left, and this is what I did with them.
To make this recipe you will need these ingredients:
6 small-med potatoes (red, white, or gold)
1/2 lg Vidalia onion, sliced
1/2 lg green pepper, chopped
6 Hebrew National All Beef Polish Dogs sliced in 1″ pieces
salt and fresh ground pepper to taste
2 cloves chopped garlic
I started by dicing the potatoes skin-on and placing them in a large skillet on high with about 1/4 cup extra virgin olive oil. While they cooked, I sliced the onion and diced the green pepper. If you like, you could always chop and add a small hot pepper to mix as well! Add the onion and green pepper to the pan and mix well to coat with oil. Then slice the Polish dogs, add to the pan and mix well. Last add the garlic, and mix well.
Let me explain the order of things. I get the potatoes in the pan right away – they would take 20 minutes to cook alone, so I try to let them cook (by themselves) for 8-10 minutes before adding the pepper and onion. Turn the heat down to med-high and about 5 minutes later I've chopped the polish dogs, so I add them. I reserve the garlic until about 5 minutes more. Then it really only needs to cook a few more minutes and as long as the potatoes are soft.
Even though this dish looks really good in the pic above, the thing that really makes it incredible are those polish dogs. I've had LOTS of hot dogs and TONS of different sausages in my life, but I'd never had Hebrew National. Their all beef texture is distinctive, but the thing that sets them apart is that they appear to be packaged in vinegar – which gives them this bit of "pickled" flavor I just can't describe, but couldn't get enough of. It permeates the onion and pepper, and once it matches up with the garlic – it just made this very simple dish come alive! There were in fact more than one in the house making fun of it – but the finished taste was unmistakable! Once you try this, you may never buy regular polish dogs again!
I would like to introduce you to "Wilton Cookie Sheets". I get a lot of questions through this blog and from friends and family about how I cook and what I use. I was just thinking the other day how well my Wilton cookie sheets have served me. I am cheap, and always looking for a bargain. And at Christmas a lot of times I'll ask for things I needs as gifts rather than buy them myself.
One year I made a list of kitchen items like pepper grinder, cutting board, knives, cookie sheets, glass 2 quart measuring cup, and so on. I wanted to replace some older items. My sister purchased 2 Wilton cookie sheets for me that year, and I thought they cost a fortune because they were huge, heavy, and non-stick. They make cookies a hundred times better, because they pan in heavy the cookies brown and don't burn like they used to on some of my cheaper cookie sheets.
In addition – we have teens in the house that use these (to my displeasure) for things like frozen pizza. For being 10 years old now, I have to say that there are very few scratches on them from the pizza cutter and knives! Wilton cookie sheets are very affordable and once you get a few you will want to throw out all your cheaper ones in the trash! Also, these make a GREAT gift for friends, family, newlyweds, you name it! Grab a couple for yourself and a few to put up for early X-mas presents!

Wilton 17×11-in. Nonstick Avanti Cookie Sheet
Price: $13.95
When using Wilton's nonstick cookie sheet, your oatmeal-raisin, chocolate chip or sugar cookies slide right off, perfectly browned with no burned bottoms. Exceptional baking performance, superior construction and convenient design features make Avanti a pleasure to use. Commercial-weight construction helps prevent warping and will help distribute heat evenly. Wilton's Everglide, metal-safe, nonstick surface resists scratching even from metal utensils. Oversized handles are designed for easier handling in and out of the oven even when wearing oven mitts. A lifetime limited warranty is included with your cookie sheet.
Make it a meatless Monday with this "Cheesy Veggie Casserole" vegetarian main dish!
As I've stated before, having a night with a vegetarian dish is a great way to cut out some calories and fat, eat lighter, and become more healthy! Sometimes I think people think that eating vegetarian has to mean tasteless bland food – and nothing could be further from the truth! Let me show you how to take some simple ingredients and combine the tastes of several classic you love into one main casserole dish for dinner!
Ingredients you'll need:
* 6-7 Medium Russet, White, Yellow, or Red potatoes
* 1/2 Vidalia Onion sliced
* About 1/2 lb fresh green beans
* About 1/2 lb fresh shortcut carrots
* About 1/2 of a brick of 2% Velveeta cheese cut into cubes
* 1 cup water
* 1 cup milk
* salt and fresh ground pepper to taste
* Italian seasonings (or fresh dill or fresh italian parsley chopped)
* 1/4 cup extra virgin olive oil
* *optional: 1/4 cup bread crumbs and / or freshly grated parmesan cheese
This recipe is pretty simple. First pre-heat your oven to 375. Next get a large mixing bowl, and dice your potatoes up (skin on) and place in the bowl. Add the carrots. Snap the ends off of your fresh green beans and then snap them all in half, and add to the bowl. Add the olive oil to the bowl and toss ingredients. Cut your onion and add to the bowl. Add the salt and fresh ground pepper to taste, turn the mixture over a few times and turn out into a glass 9×14 baking dish. Chop your Velveeta into cubes, add to the top of the pan, and push down a little into the veggie mixture. Pour the water and milk over the mixture slowly from one end of the pan to the other. On top add the bread crumbs or parmesan cheese if you like.
Bake on 375 for about 1 hour in center of oven. Best served with fresh french bread or freshly baked multi-grain rolls. The best way to describe this disk is a cross between scalloped potatoes and Mac & Cheese (without the pasta)! It's really good, and we never have any left over when we make it!
Baked potatoes are great, but this potato wedges recipe is better! It's like fried potatoes, but healthier – and oh so crispy on the outside, but soft baked goodness on the inside! My favorite is to slice large russet potatoes in half, and then each half in thirds with the peel still on. They turn out so good!
Ingredients you'll need -
10 russet potatoes
Olive oil
2 tbsp chopped garlic>
fresh ground pepper
italian seasoning
salt (I Looove sea salt!)
Preheat oven to 450 degrees.¬ Cut each potato in half, and then in thirds for wedges. Toss in a bowl with olive oil, but only enough to coat the potatoes. Add the salt, pepper, italian seasonings, and chopped garlic and toss again. Place on either a baking sheet or a 9×14 glass casserole pan. Bake in oven for 20-30 minute or until potatoes are completely tender!